PROCESS
CUSTOM WEBSITE, CUSTOM REPORTING, JASPER REPORT&copy, CRYSTAL REPORTS©
Our system development process starts with in-depth consultation to help understand your needs and business goals. Depending on the nature of your business needs, we provide you with a high level overview of your options in order to help you determine if you would like to go ahead with the project.
In order to give you an idea of how long the project is likely to take and how much, roughly, it is going to cost, we develop initial project specifications.
After signing an agreement and receiving the deposit we start developing detailed project specifications / design document.
The document clearly defines:
The objectives and scope of the system
Clear description of system functionality. In order to help you visualizing how the system will function and might look like, we create a number of mockup screens with a business flow description.
Timeline
Estimate - if the scope and functionality of the system are fairly clear, we provide per project cost. If the scope of the work is not clear, we can work on per hour basis.
Technology overview
List of project prerequisites (if necessary) such as required software licenses, domain name registrations, required hosting account (we can help with arranging all requirements)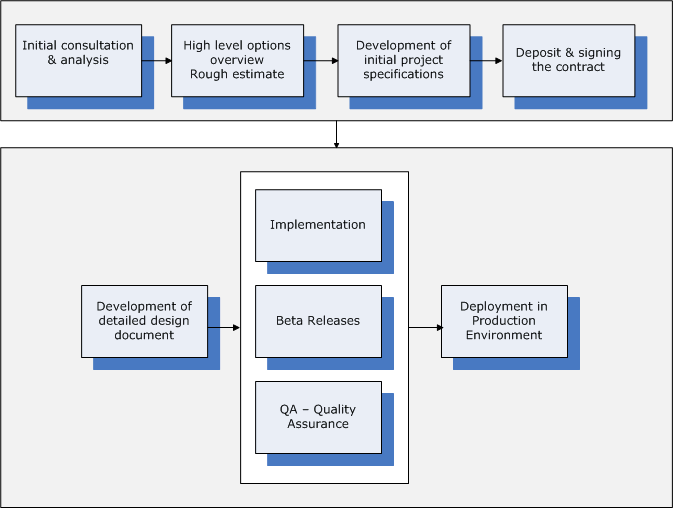 Once the document is approved, we start implementation stage. Depending on the scope and timeline of the project, we might release multiple beta versions in order to make sure that everything is going according to the plan and your expectations (please note that any design changes at this point are not recommended since they might affect project scope and cost).
Approach
Depending on the project scope we can agree on per project cost or an hourly rate.
We reuse our existing and proven software architecture.
Technologies
MS .NET and .NET Compact Framework, ASP.NET
Java, PHP, AJAX, CSS
XML web services
Databases
MySQL (Open Source Engine)
Oracle
MS SQL
MS Access
Reporting
Interactive reports from a wide range of data sources.
Crystal Reports©
Jasper Reports©
On-site services in:
Toronto
Mississauga
Oakville
Brampton, Burlington